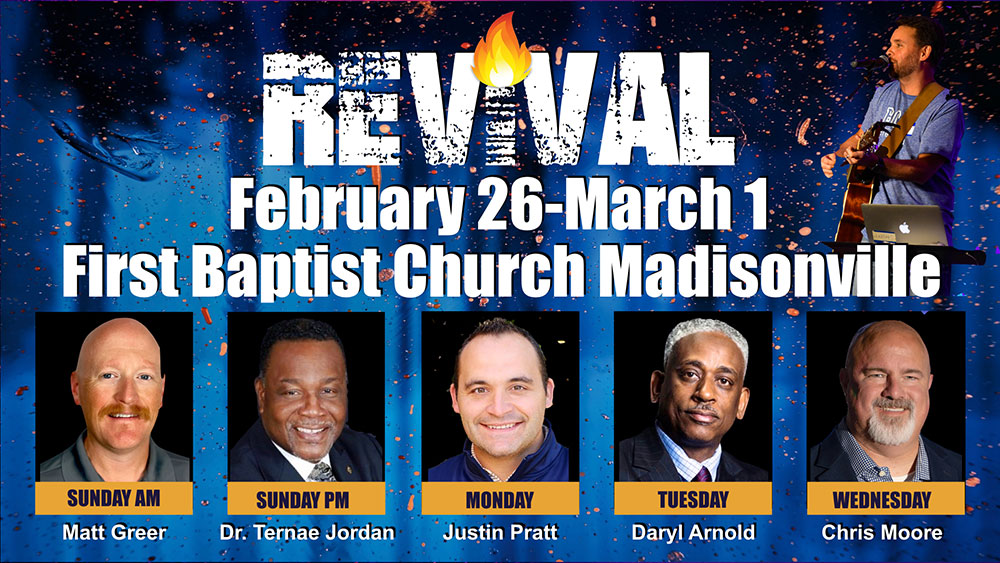 Revival
First Baptist Church Madisonville will be hosting Revival Meetings February 26-March 1 (10:30 AM Sunday Morning and 6:30 PM nightly).  Every church and every person is invited!
You Can Expect:
Dynamic Preaching From God's Word, Special Guest Testimonies and Music by Adam and Kristi Gregory and others, Kids Activities Are Provided During Each Session
$4 Supper Each Week Night at 5:00 PM (in the Fellowship Hall)
Nursery Provided.
God has blessed us with an outstanding Revival Team:
Sunday February 26 (AM)
Matt Greer,
Pastor of Missionary Grove Baptist Church in Camden, TN
Sunday, February 26 (PM)
Dr. Ternae Jordan Sr.,
Pastor of Mount Canaan Baptist Church in Chattanooga, TN
Monday, February 27
Justin Pratt
Pastor of Clear Springs Baptist Church in Corryton, TN
Tuesday February 28
Daryl Arnold
Pastor of Overcoming Believers Church in Knoxville, TN
Wednesday, March 1
Chris Moore
Pastor of First Baptist Church Madisonville, TN
Worship will be led by Steven Johnston and various guests.
Lee Roberson once wrote: "Let us return to the basic things of the Word of God and prayer and soul winning and revival. Let us pray, 'O God, send a revival. Let it begin in me.'" Are You Ready for Revival?  Do you long for it? Are you praying for it? If Not Here, Where? If Not Now, When? If Not Us, Who?  Join Us For Revival!  For more info call 423-442-4544.